Edwin and Karito are the Happy Day BP team, the love for what they do has allowed them to learn, grow and continue to train themselves, in order to give their best and thus create happy clients. Their commitment is: #AddValueToYourDreams.
They have more than 10 years of experience in the development of the graphic, audiovisual and media sector in both English and Spanish.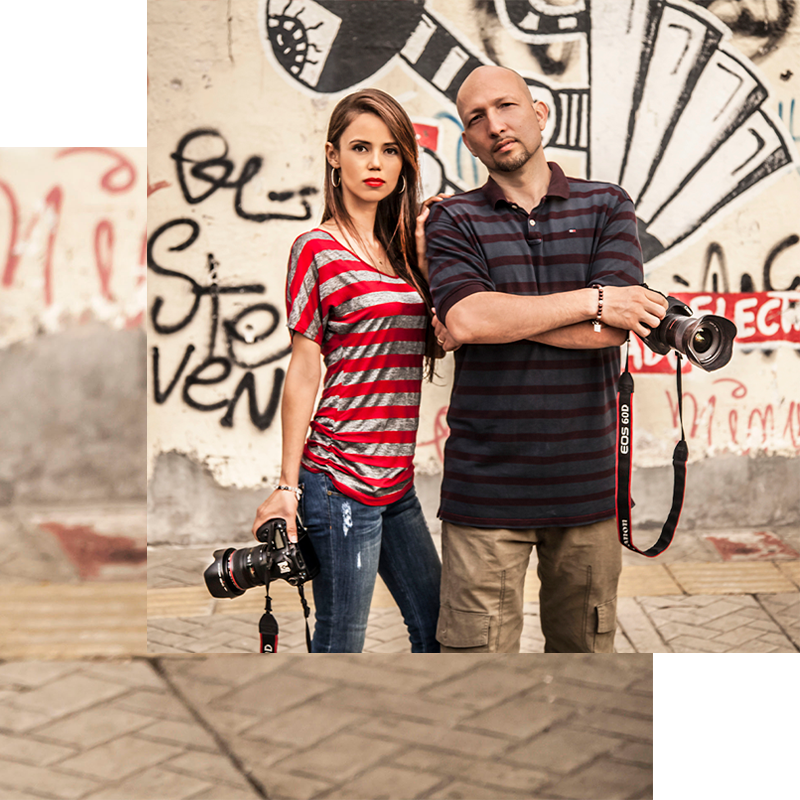 Raised in the USA where he studied from preschool to university, there he majored in theology at Southeastern University. Later, moving to Colombia, he trained in pedagogy, phonetics and linguistics of English as a second language at the Berlitz Language Institute. At the Meyer Institute he worked as Academic Administrative Director and English teacher. This has allowed him to gain experience in public relations, marketing, sales, teacher and secretarial training, in addition to managing bilingual education institutions. He's taken several courses in Audio Production.
Graphic Designer with more than 10 years of experience. Graduated from the Professional Drawing Academy Foundation where she finished her studies in Audio and Video Production Design and where she is currently pursuing a career as a Professional Technician in Advertising. In addition, she underwent the English program at the Meyer Institute.
At Happy Day it is very important to understand you and provide you with the necessary and most accurate tools to solve your needs. That is why we want you to sit down with us and have a cup of coffee, tell us about your project, how you want it and what your expectations are and thusly be able to achieve your dream together.
We study the behavior of your target and identify the true needs they have within the market, thus optimizing resources and obtaining competent solutions.
We help you build your brand considering what you want to project, the essence of your product and service and how it is functional on different platforms and ways it can be used.
We do not make decisions alone; we enjoy being able to have your opinion and making you part of the entire process.
Our priority is to make possible and deliver your dream, life project, entrepreneurship or solution to an immediate need with excellence, quality and on time, but above all with the love and dedication we put into each individual project as if it were our own. Your project is most assuredly in very good hands.
The following are some of our clients with whom we've worked along the years.
My experience with Happy Day Bilingual Productions was very positive, they were very professional and punctual, I recommend them to any educational institution that requires an academic audiovisual production.
Our experience with Happy Day BP was positive and fulfilled our expectations, we're happy with the work on our website, I totally recommend them .
Our foundation has benefited from the relationship with Edwin and Karito. Throughout the years, they have always come through in a timely manner with audiovisuals, graphic designs and website development.
Happy Day BP took care of all our graphic needs for our new restaurant, providing much more than was expected.